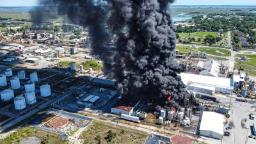 CNN
 — 

A plant fire that prompted evacuations after reigniting Saturday afternoon in Brunswick, Georgia, has been extinguished, according to the Glynn County Board of Commissioners.
The fire at the Pinova plant, which delivers specialty rosin and polyterpene resins, initially broke out Saturday morning, with the board saying on Facebook nearly three hours later that it had been contained and there was no immediate concern for public safety.
Later Saturday, the board said in another Facebook post that the fire had reignited and a shelter-in-place order was issued for a one-mile radius around the plant. All evacuation and shelter-in-place orders were lifted around 10 p.m., when officials reported that the blaze was out.
In a press conference Saturday night, Brunswick Mayor Cosby Johnson said he issued an emergency declaration for the coastal city.
"Because we did not know the extent to which we could contain this fire and we could not foresee where the wind would be moving, we thought it would be best for us to talk to our entire city, and not just one singular piece of it," Johnson said.
The emergency declaration ended at 8 a.m. on Sunday, according to the county board of commissioners.
Kimberly Michele Edmond, who was advised to shelter in place earlier Saturday, told CNN the fire was still burning around 5 p.m. ET and that she could smell it from her mother's house about a mile away. Edmond said she felt a bit lightheaded when she went outside, but didn't describe the smell in the air as especially bad.
The major added that the city opened a shelter for those who evacuated their homes.
Officials also thanked nearby cities and counties for sending resources to assist, including Jekyll Island, Savannah, Wayne County in Georgia and Jacksonville in Florida.
The origin of the fire was still unknown as of Saturday night, according to Brunswick Assistant Fire Chief Laurence Cargile.
Correction: This story has been updated with the correct spelling of Glynn County.